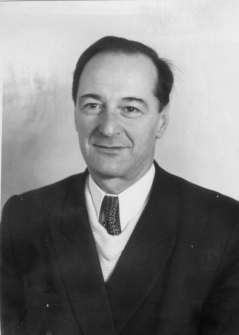 Corresponding Member of Russian Academy of Sciences
Boris S. Dzhelepov
died
( Khlopin Radium Institute, St.Petersburg) went away on the April 22, 1998, of the age of 87.
Professor Boris S. Dzhelepov was an outstanding physicist who made important contributions to physics of nuclei.
His work in science began in 1934 at Physics and Technology Institute of the USSR Academy of Science where he studied beta-decay of natural and artificial radioactive isotopes.
Under his guidance a number of unique apparata for nuclear spectroscopy had been constructed and employed, using in particular synchrocyclotron in Dubna. Results of these works was of first rank importance for understanding the structure of atomic nuclei. They were summarized in his famous guidebook "Diagrams of radioactive nuclei" (1957).
From 1957 on he was head of Russian Academy of Sciences Scientific Council on Nuclear Spectroscopy, was organizer and active participant of annual conferences on Nuclear Spectroscopy. The last such conference (the 46-th !) was held in 1996.
Almost for 40 year Boris S.Dzhelepov took position of Chief Editor of "Proceedings of Russian (the USSR) Academy of Sciences, Physics Section", was a member of Editorial Board of "Atomic Data and Nuclear Data Tables" international journal.